In Windows the mouse pointer speed is by design global and not per device (with the exception of most modern laptop trackpads).
This can create usability issues when working with different input devices, as some are more sensitive than others..
Base pointer speed
The "Magic Utilities" application offers a base pointer speed which can be independently adjusted from Windows.
In the Mouse Options section of the user interface you can adjust the base speed to Slow, Normal and Fast.

Windows Mouse Properties
To fine tune the global mouse pointer speed open the Windows Mouse Properties, either:
Click the mouse icon to the right of the Base Speed slider.
From the Magic Utilities application menu select Windows > Mouse pointer options... .
Open Windows Settings > Devices > Mouse > Additional mouse options.
Make sure you select the Enhance pointer precision. This option can really make a huge difference.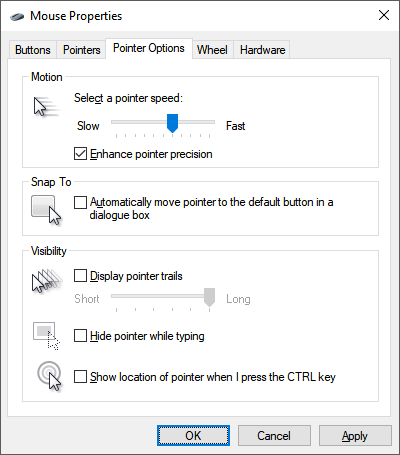 3rd party mouse "plugins"
Some 3rd party plugin applications like Logitiech SetPoint can intercept the global Windows Mouse settings and make your mouse pointer almost unusable.
In case you have any mouse pointer troubles, make sure you exit these 3rd party apps. Run them only if you really need them.